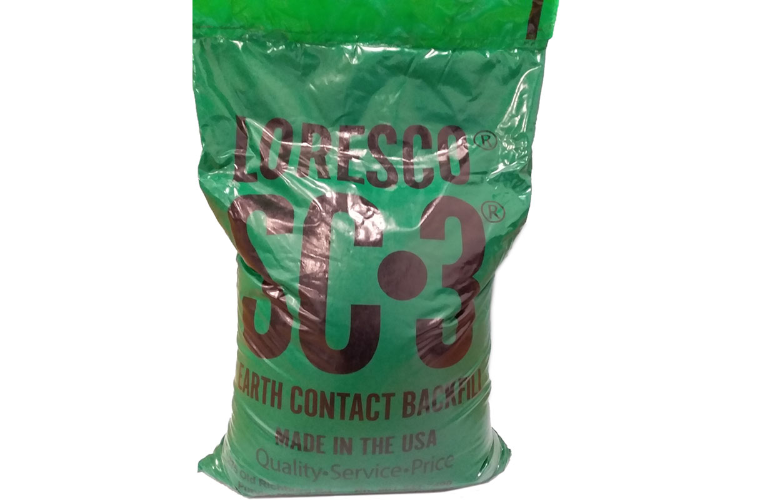 COKE PETROLEUM CALCINED SC-3 LORESCO - 50 LB BAG (74#/cuft) IMPRESSED CURRRENT BACKFILL
AVAILABLE
Quebec Online Orders Not Available
Corrosion Service offers a full line of Loresco® earth contact backfills and related products which are designed and produced exclusively for the corrosion industry. All Loresco® backfills begin with high-quality carbons that are calcined to exacting standards. These carbons are further processed to enhance various properties depending upon the specific application or field conditions.
SC-3®
Loresco type SC-3® is a dust-free product and, according to EPA extraction tests, is extremely pure and complies with regulations governing buried products. Utilizing a modified industrial standard method for testing permeability (API RP-27), SC-3® will mitigate fluid interchange between aquifers.
Loresco SC-3® is produced specifically for cathodic protection applications using an exclusive multi-step process. First, a high quality base carbon with desired characteristics is selected. Next, this carbon is calcined to a minimum temperature of 1250° C under exacting and controlled standards. This step results in semi-graphitized carbon particles with excellent conductivity. Then, to further improve bulk conductivity, the surfaces of the individual particles are modified to enhance the contact conductance. This breakthrough in surface alteration ensures maximum electronic current transfer with positive anode contact. Finally, a specially formulated surfactant is added to reduce particle surface tension for compact settling under water.
Loresco SC-3® has a bulk density of 74 lbs. per cubic foot. The fixed carbon content is greater than 99.35% by weight. The bulk density and high fixed carbon content coupled with the assured low resistivity medium allows for longer groundbed life at a lower operating cost.
Loresco SC-3® is the recommended product for high current installations. Specify Loresco SC-3® Super-Conducting Premium Earth Contact Backfill.
---